How To Choose Golf Hats, Caps and Visors
Golf hats are an essential item for those sunny days out on the green to offer protection from the sun's harmful UV rays and prevent glare from impacting your performance. There is a wide range of golf hats to choose from so how do you know which is the right golf hat for you? 
A2Z Golf supplies golf players and clubs with high quality, high performance and stylish golf apparel, headwear and accessories in Australia. We stock a range of premium golf brands with everything you need to complete your golfing wardrobe. Here is our guide on how to choose golf hats, golf caps and golf visors
How To Choose Golf Hats, Golf Caps and Golf Visors
Golf caps, golf bucket hats, golf visors, golf flat caps… which one do you choose and what makes a good golf hat!? Here is the low-down on golf hats and what to look out for when choosing one.
Golf caps are a popular choice amongst golfers. They are great for shielding your eyes from the sun's glare without impacting your view when lining up the next hole in one. They're comfortable and have a versatile style making them an easy go-to golfing hat. When choosing a golf cap features to look out for include moisture-wicking sweatbands, lightweight material, a curved peak and a reliable back strap. 
Golf bucket hats are great for providing full protection from the sun for your face, ears and neck. When choosing a golf bucket hat, lightweight fabric is best and breathable mesh vents are a great feature for added comfort and coolness. 
Golf visors are also a popular choice for golfers. They offer the same advantages as golf caps but are a cooler option - ideal for those hot summer days.  
Golf flat caps are for those who prefer a classic or traditional look. Lightweight golf flat caps are the ideal choice for warmer days (100% cotton golf flat caps are a good choice), with wool flat caps offering warmth during winter. When choosing a golf flat cap, look for a pre-curved peak and a low-profile unstructured crown. And of course, for winter days out on the golf course, beanies are a great alternative to the golf flat cap.
Custom Golf Hats
Did you know that we do custom golf hats? We can fully customise your golf hats for a unique and professional look - ideal for uniforms, corporate attire and pro shops. Customisation can include: 
Traditional or 3D embroidery
Woven badge
TPU badge
Inner piping print
Decorated closure buckles
Woven strap & sweatband labels
Sandwich labels
Multiple logos on areas of the cap not otherwise possible with traditional in-house embroidery
Suppose you don't already have a logo or artwork for us to use - no problem! We have a team of in-house graphic designers that can take care of your design requirements for you.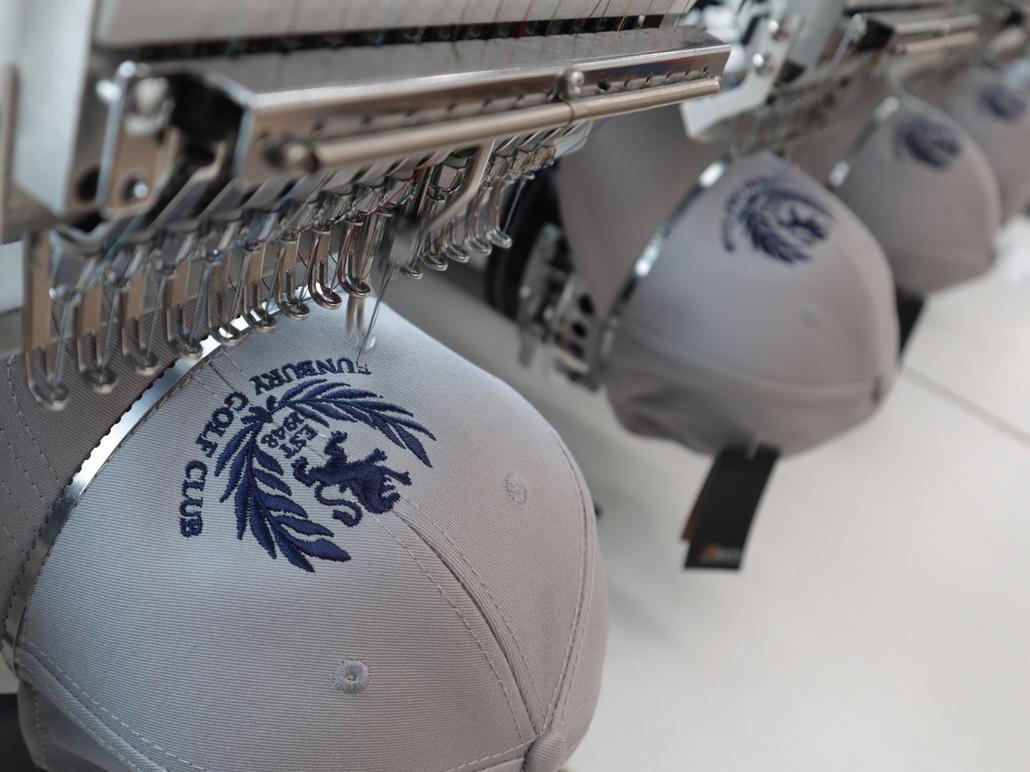 Shop Golf Hats Online Now
So now you know what to look for in a golf hat you can now shop our range of
high-quality golf hats online
.  We offer free Australia-wide shipping on orders over $99 and stock a wide range of golfing apparel too - we're your one-stop shop for high-quality, stylish performance golfing attire & accessories!