Guide To Bulk Ordering Custom Golf Caps
Custom golf caps are ideal for uniforms, corporate attire and pro shops. We stock a wide range of golf caps that can all be customised. We offer premium standard & 3D embroidery for embroidered golf caps using Tajima and Barudan embroidery machines, which are widely regarded as the best in the world. Below is our guide to bulk ordering custom golf caps and the personalised golf cap options you can choose from. 
A2Z Golf stocks a range of premium golf brands, supplying golf players and clubs with high quality, high performance and stylish golf apparel, headwear and accessories in Australia. Here is info on ordering bulk quantities of personalised golf caps and the customisation options we offer
Guide To Bulk Ordering Custom Golf Cap
We have a team who will be able to assist you every step of the way when ordering personalised golf caps in bulk. There are no minimum quantities required for embroidered golf caps done in-house however there are minimum quantities for other personalised golf cap options -  so it is best to get in touch with us to discuss the quantities you require so we can provide you with an accurate quote for bulk orders. 
You will need to choose your cap style, colour and decoration options (see options below for front decorations), along with the placement of your cap personalisation. You can choose from multiple embroidery positions including:
Cap front 
Inner piping print
Decorated closure buckles
Woven strap & sweatband labels
Sandwich labels
You will need to provide branding/logo artwork, however, we have an in-house graphic design team that can assist with artwork creativity if you don't have artwork to provide. Once we know what quantities you wish to order, we will provide you with a quote.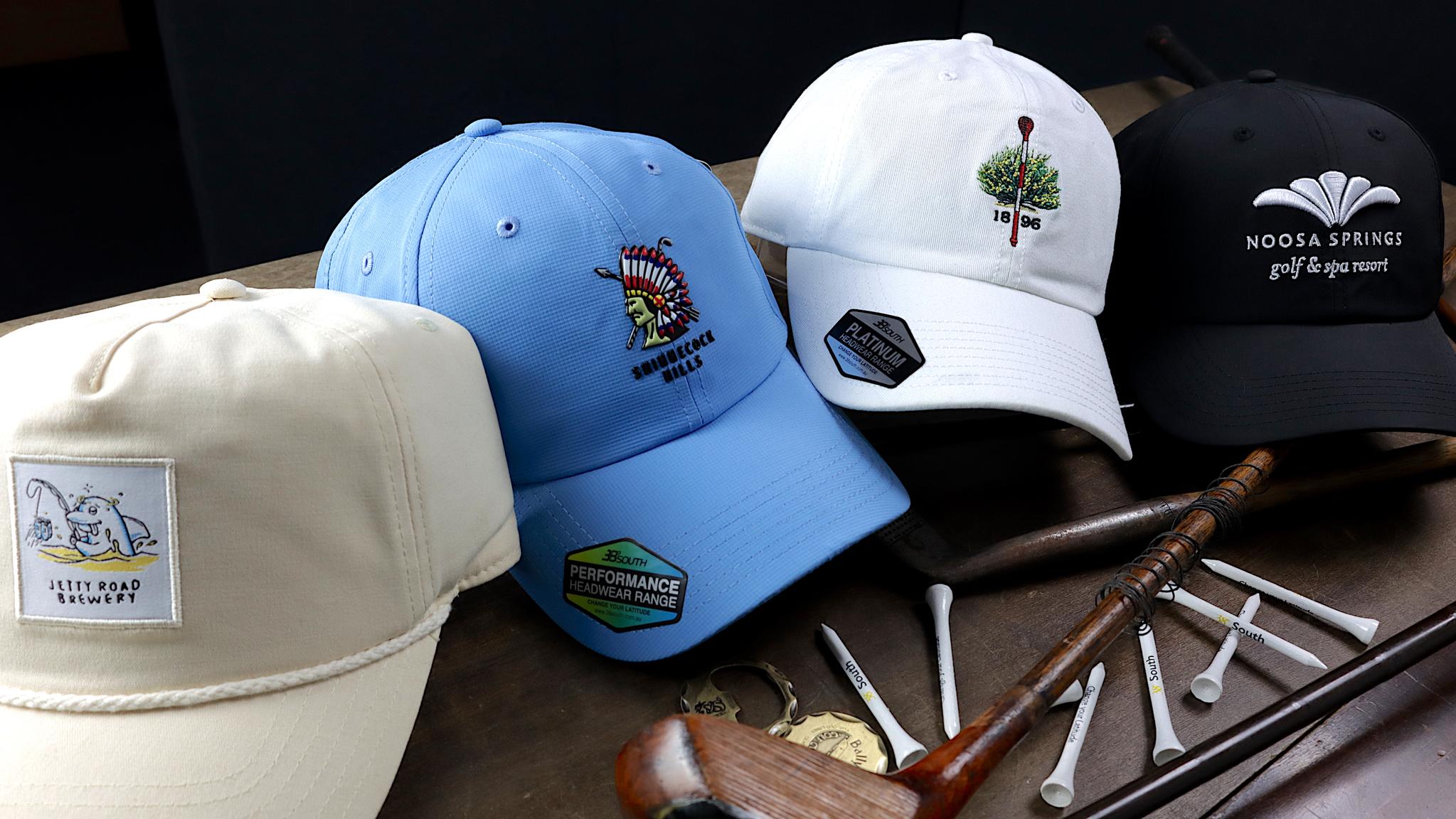 Personalised Golf Cap Front Decoration Options 
For personalised golf caps we have three options for you to choose from for front decorations:
Embroidered golf caps. We offer premium quality embroidered golf caps with two embroidery styles to choose from - standard embroidery (gives logos a flat look) and 3D embroidery (gives logos a raised 3D look). We also have an extensive thread colour range available for our embroidered golf caps.
Woven badge personalised golf caps. Ideal for logos or branding that have small text lettering or complex detail.
TPU Badge personalised golf caps. TPU stands for Thermo Plastic Urethane which has excellent properties of high tension, toughness and ageing resistance. TPU badges are ideal for logos or branding that have fine details or if you're after a 3D look. There is no colour limitation with TPU Badge personalised golf caps (metallic finish also available).  
Order Personalised Golf Caps in Bulk
Contact us today to find out more about our range of embroidered golf caps, personalised golf cap options and to get a quote for custom golf caps in bulk quantities.